Are you trying to find a simple approach to create and edit your WordPress website? A drag and drop page builder might be the ideal answer in this case. Finding the ideal one is the only difficult part!
The creation of pages on your WordPress website will be simpler than ever thanks to all of these strong page builders like Elementor, Beaver Builder, and others. You can add new elements, alter layouts, and produce amazing pages for your website with only a few clicks.
I compiled the The 7 Best WordPress Page Builders, both free and paid ones, to help you narrow down your choices and find the best option for your budget.
Here's what you'll find in this guide:
The key features of WordPress page builders.
The 7 best WordPress page builders currently available.
Elementor Page Builder
A strong WordPress page builder called Elementor makes it simple to make stunning websites. It is one of the most widely used WordPress page builders accessible, with over 4 million active installs. Elementor is a go-to option for WordPress designers due to its intuitive UI and powerful features.
Without knowing how to code, Elementor can let you quickly design stunning pages. Developers will value the plugin's extensible architecture because it enables you to make original widgets and add-ons. It is also among the fastest page builders, so it will not slow down your website.
With over 100 free templates and 300 premium templates, Elementor has one of the largest libraries of templates and building blocks available.
Key Features:
Builders for themes and forms
WooCommerce and pop-up builder
Over 300 Premium templates.
Advantages of Elementor:
The free version already comes with plenty of templates and features.
Fast, fluid editing mode including real-time front-end editing
Elementor users can get fresh elements and templates from many third-party providers.
A pop-up builder, a visual form generator, animations, and special effects are included in the Pro edition for creating interesting content.
There is no leftover shortcode rubbish after deactivation.
Pricing:
Elementor has free and premium options. For a single website, the Personal plan, which costs $49 annually, comes with everything offered by the free plan. For use on three websites, the Plus plan is $99/year; for use on 1,000 websites, the Expert plan is $199/year.
WPBakery Page Builder
WPBakery has been around for a while, you'll find a lot of integrated layouts and content-designing building blocks including boxes, icons, text blocks, and diagrams. In addition, numerous third-party vendors provide over 250 connectors with other significant plugins like WooCommerce in addition to thousands of useful features for a distinctive style.
Although WPBakery Page Builder doesn't have a good reputation for performance, I was pleasantly delighted by the outcomes. Even while it isn't the quickest builder available, it is still reliable and quite competitive with the other choices on this list, at least for this straightforward test case.
Key Features:
Almost any WordPress theme may be utilized with WPBakery Page Builder.
A large template collection.
Advanced grid builder.
Dedicated support.
Advantages of WPBakery Page Builder:
Several content components are also available from outside vendors.
Integration with more than 250 reputable plugins is possible.
Includes an extensive collection of pre-made layouts.
Lets you edit any page using a front-end visual editor.
Pricing:
WP Bakery Page Builder is a premium plugin ($49), but it also ships for free with plenty of templates.
Visual Composer Website Builder
There is a strong team behind Visual Composer! It was created by the people behind WPBakery, one of the most well-liked page builders available on CodeCanyon. In addition to being simple to use, it has a ton of capabilities that experienced and intermediate web developers will appreciate.
With Visual Composer, you can work with a variety of configurable elements and edit content and layout in the frontend. Modern user interface with immediate results after training is available, whether docked or floating.
With the plugin, you can easily alter the appearance of any element on your page. Simple methods for adding fashionable backdrops include parallax, gradient, slideshow, carousel, zoom in/out, and video, among others. Additionally, it has adjustable rows and columns so you may design grid layouts for your website.
All WordPress themes integrate seamlessly with Visual Composer. By doing so, you can change themes without losing the unique layouts you made with Visual Composer.
Key Features:
Compatible with all SEO Plugins.
Provides both front and backend visual editors.
Advantages of Visual Composer Website Builder:
Text and layout can be edited directly on the page
Visual composer allows you to hide elements and save them for later, cleaning up your design area and reminding you about the module.
Visual Composer Hub with many extensions
Has 3-1 editor, backend, live frontend editor, and the tree view.
Pricing:
A membership to Visual Composer starts at $59 per year. From the second year on, users are given a 40 percent discount.
Beaver Builder
Another well-liked drag-and-drop WordPress plugin that significantly speeds up website creation is Beaver Builder. In order to speed up and streamline their operation, it provides a page builder plugin and framework theme. For the creative types that still crave for something more than the simplicity of the previous builders, Beaver Builder offers a powerful WordPress page builder.
Almost any element you might possibly want can be added using a module, including sliders, carousels, backdrops, content blocks, buttons, and more.
Additionally, it includes over 30 beautifully designed templates for landing pages that make creating beautiful website layouts incredibly simple and quick.
A fully responsive and Gutenberg-ready plugin is Beaver Builder. Both a free and a paid plugin are offered. You can get its free version directly from WordPress.org and use it for straightforward landing sites.
The Agency plan ($399) includes white-labeling, indicating that Beaver Builder's staff is also considering developing homes with clients.
Key Features:
Excellent Customer Support
Front End Editing
Support for WooCommerce
Fully responsive and mobile friendly designs
Advantages of Beaver Builder:
Ease of use & integration
Free version offers important basic features.
Even after disabling the plugin, changes are kept.
Pricing:
Starting from $99 for Unlimited Sites.
Themify Builder
Themify Builder, which provides a free download of its plugin that you can use on any theme of your choice, is another one of the finest free WordPress page builders. However, the plugin is also available with Themify themes if you require additional direction.
You can add a number of ready-to-use modules from this straightforward and incredibly intuitive page builder to your pages or posts. You typically need to install different WordPress plugins in order to use many of these modules.
The plugin comes with more than 40 pre-designed layouts for a variety of businesses, including online stores, gyms, restaurants, portfolios, music, and photography.
You can edit your pages using Themify Builder both from the admin area and the live site. You can see precisely how your changes will appear on the website when you use live editing.
Key Features:
40+ pre-designed layouts
Support for rows, columns, and grid layouts
Support for custom code and shortcodes
Advantages of Themify Builder:
It offers a novel tool that lets you hide certain website elements based on the device being used.
You also have the option for custom CSS.
The free version includes features that you often have to pay for with other WordPress page builders.
Pricing:
$39 For the Builder Addon Bundle (The core plugin is free)
Divi Builder
Divi is a professional drag and drop theme and WordPress page builder plugin. It has hundreds of layout packs for various types of websites and is quite simple to use. You can start editing your page right away with a live preview of all changes by clicking on it. In order to see your new design, you do not need to save and select preview.
With Divi, you can quickly construct any kind of unique page layout. Then, you can store these Divi layouts for a later time on your website. Additionally, you can import a layout into another Divi installation.
Divi also includes a useful module called the audio player that makes it simple to incorporate audio files into your website. The audio clip can subsequently be played by visitors directly on your website. To reduce editing time, the Divi Builder offers users tools including bulk editing, a color manager, and copy-and-paste styles.
Key Features:
800 pre-made website layout packs
40+ design modules
Global elements and styles
Undo and redo functions
CSS styling options
Advantages of Divi Builder:
Divi Builder comes in a package with more than 110 themes.
Blocks, Addons, and Layout Packs
Flexible Row-column Layout Building
Pricing:
Divi Builder offers two types of plans – a yearly subscription for $89 or lifetime access for $249.
Brizy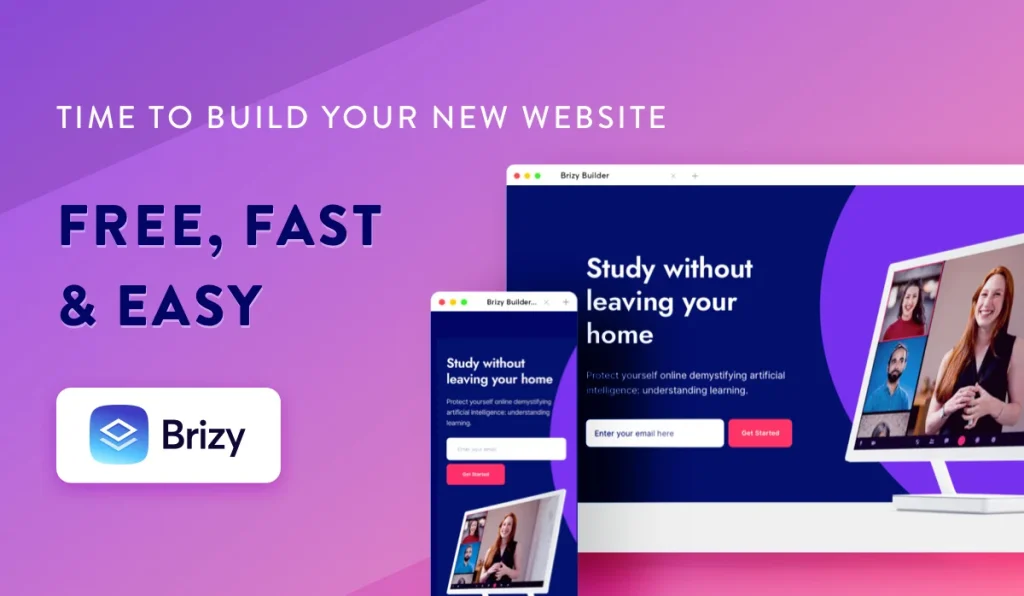 Another robust WordPress editing plugin is Brizy. It is based on React and includes a number of templates to help you get started with your creative process.
A relatively new WordPress page builder is called Brizy. The designers put great emphasis on numerous excellent designs and templates, as well as a contemporary interface. Without using complex menus, you can change your pages straight in the interface. Simply click on the text to edit it like you would in Word. Similar to this, you may quickly create new page elements and column layouts. Brizy operates incredibly well and consistently.
Additionally, Brizy provides an auto-save tool that saves changes to your page over time. Brizy saves your past iterations while you work and remodel your pages in case you need to go back to those layouts once more. This enables your team to test your page layouts more quickly and guarantee that you are producing the most user-friendly design possible.
With the free version of the plugin, you can quickly construct beautiful and fully functional websites, but if you need more pro capabilities, the paid version will provide you with improved features and tools!
Key Features:
Code-free website designing
400+ templates
Visual contact forms
Intuitive and clutter-free
Responsive from the get-go
Premium features for free
Global styling support
Advantages of Brizy:
Fast creation of column layouts
Over 150 ready-to-use content blocks
Many professional layouts for numerous application scenarios
Global Blocks for cross-website content distribution
Extended user administration with role assignment
Pricing:
Free for basic features. Premium plans are available for $149/year, $299/year, and $329/year.
Feature Summary
Page Builder
Key Features
Advantages
Pricing
Elementor
– Builders for themes and forms
– Free version with plenty of templates and features
– Fast, fluid editing mode with real-time front-end editing
Free version available<br>Premium plans starting at $49/year
WPBakery Page Builder
– Large template collection
– Integration with over 250 reputable plugins
– Extensive collection of pre-made layouts
Premium plugin ($49)
Visual Composer
– Both front and backend visual editors
– Text and layout can be edited directly on the page
– Visual Composer Hub with many extensions
Membership starts at $59/year
Beaver Builder
– Front End Editing
– Ease of use & integration
– Free version offers important basic features
– Changes are kept even after disabling the plugin
Starting from $99 for Unlimited Sites
Themify Builder
– 40+ pre-designed layouts
– Unique tool to hide certain website elements based on the device
– Free version includes features that are often paid elsewhere
$39 for Builder Addon Bundle
Divi Builder
– 800 pre-made website layout packs
– Comes with more than 110 themes
– Flexible Row-column Layout Building
– Undo and redo functions
Yearly subscription $89
Lifetime access $249
Brizy
– Code-free website designing
– Over 150 ready-to-use content blocks
– Global Blocks for cross-website content distribution
– Premium features for free
Free for basic features
Premium plans starting at $149/year